Cardiff Bay Chiropractic are very excited to be hosting this fantastic 4 day certified course in Spinology, on December 7th till the 10th, as developed by Reggie Gold himself. This course is aimed at Doctors of Chiropractic who would like to add a Spinology certification to their names.
If we ask – do we need Spinologists in the world in which we live? The answer is resounding yes! The current way of life of man brings endless possibilities of losing the ideal integrity and dynamics of the spine, i.e., having spinal occlusions. From childhood, we are exposed to shocks, falls, stress, strain, fears, weaknesses, these are all possible causes of spinal occlusions.
Spinology is a vitalistic profession with a philosophy and a spinal maintenance technique, essential to the greater wellness and vitality of all people!
In adulthood, life is often even more complicated and stress is the major negative in our bodies and in our lives. This situation can be reversed. The contribution of Spinology is to help as many people as possible make the most of their lives. Concepts like "caring" and "maintenance" override the traditional "treatment" concept.
The Spinologist works with individuals, with families, sports teams, & businesses. The purpose of Spinology is not to treat or cure anything, but rather to enhance the overall performance of an individual…mentally, emotionally & physically..
The European Spinology Tutorium (formerly European School of Spinology) started teaching training programs back in 1986. It currently has its headquarters in Valencia. The Advanced Spinology Diploma for DCs is designed to train qualified chiropractors who are committed to work with anyone seeking their services. The "market" of potential clients is limitless as we do not hold ourselves to work only with people with health issues, but with people who want to increase the quality & quantity of every aspect of their lives!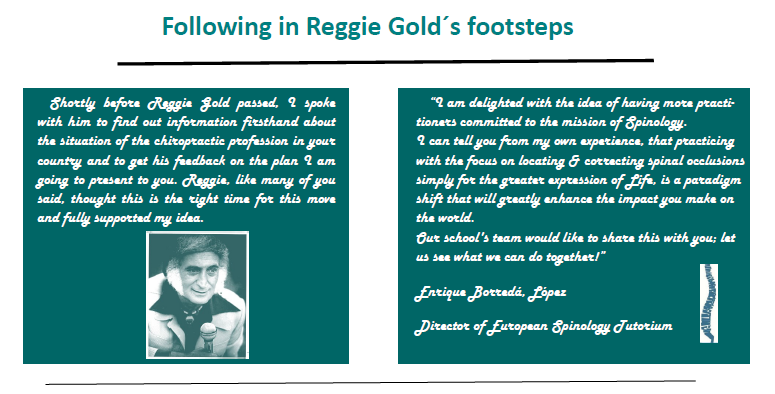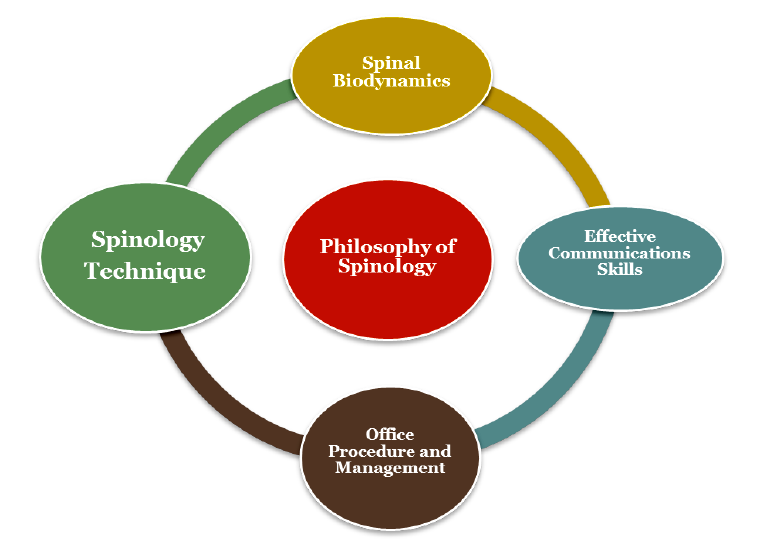 "Spinology as a technique, offers a direct method of analysis and correction which is tried and true. Besides your favorite technique, many doctors would like to have a low tech approach in their arsenal which requires only your hands. No X-rays or instruments are used, a truly elegant and low tech way of getting the job done independent of any form of technology, just palpate and adjust. So where ever you are, where ever you need it, you have a skill that can be applied rapidly to any age client. In the office, camping, on the battlefield, on vacation, you can be confident that you can handle the situation when the lights go out". "Our advanced course teaches you how Spinology is practiced in Europe and was practiced by Reggie Gold with the only purpose to broaden your perspective on spinal correction. We do not endorse the use of any particular method as this is professional prerogative".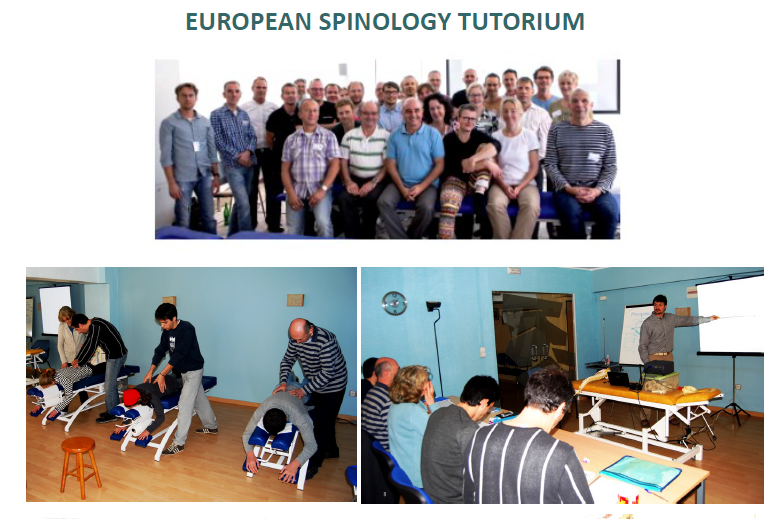 To book onto this course, please complete the registration on the button below.
The cost of the event is 3000 Euros or approximately £2652.86
A deposit payment of £500 will be required to book your space and the remainder money to be paid by or on the day of the course.
Any questions, please email Ján Beytell on jan@cardiffbaychiropractic.com